EXPERT BOAT REPAIR
WE SERVICE MOST
MAKES AND MODELS
Winterization Commissioning Checklist
Winterization Commissioning Checklist
It's that time of the year again when we all start thinking about the shift in the seasons, and with the cooler weather, we need to plan our winterization needs.
Please see the winterization checklist form, complete it fully, and send it back at your earliest convenience.
All customers are responsible to ensure that Great Lakes Yacht Services (shop) are aware of when they are hauling out, and that the winterization checklist form is submitted via email or in person.
(Work orders will not be recognized via voicemail; forms must be filled and submitted)
Please also note that we are at the mercy of inclement weather, high winds, parts that may be of special ordering, and unforeseen circumstances of all kinds that affect timelines on very tight schedules.
If you are having trouble filling out the winterization checklist form, you may try to open it with google chrome / Microsoft edge (your internet browser)
Need a Work Order Form?
If you require our services, please click here for our Work Order Form and email it back at your earliest convenience.
Please note, our mechanical rate is $135 / hour + parts + HST. All work is done on site at Great Lakes Yacht Services (Bluffer's Park Marina) or within the basin and a valid credit card is required on file to start all work orders.
If your boat will be delivered from away, please call us or note it on your work order and we will schedule a time for you to deliver your vessel.
POLICY CHANGE UPDATE FOR ALL NEW WORK ORDERS' SUBMISSIONS MOVING FORWARD….

Boats manufactured before 2000 will need to be reviewed first by the shop manager, approved, and a deposit must be made before any work is started.
Thank you for visiting Great Lakes Yacht Services @ Bluffers Park Marina
We are a full service shop and a dealer for Mercury, Volvo Penta, Beta Marine, and Yanmar.
We are proud members of ABYC and NMEA. Our technicians are ready to service your vessel.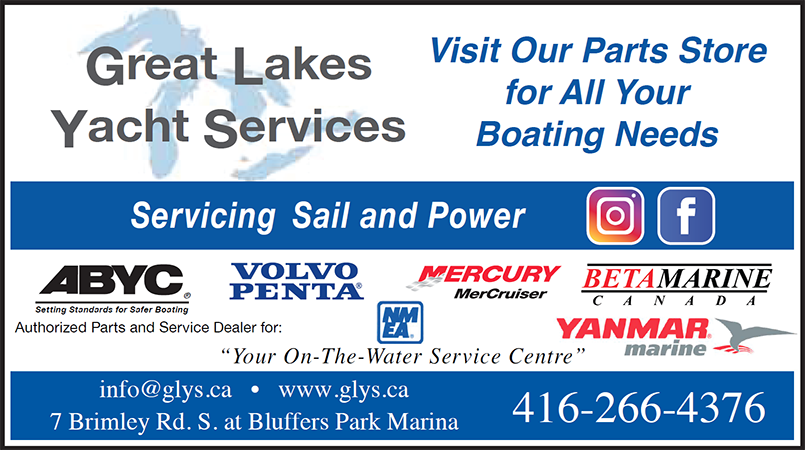 Our Pledge
We will:
Conduct ourselves at all times with the honesty, integrity, and skills associated with professionals.
Stand behind our work, and honor all guarantees and warranties associated with the services we provide and the products / parts we use.
Recommend and perform only those services we deem to be in the best interests of our customers.
Continuously upgrade our tools and equipment to meet the demands of today.
Provide our customers with fair value for services rendered.